which destination to visit when you are in Banyuwangi ?
If you are in Banyuwangi or the surrounding city, don't forget to explore the various beautiful tourist destinations. Because Banyuwangi can make your trip Full Experience.
The Regency, which is located on the east end of Java Island, has successfully brought 1.5 million domestic tourists and 30 thousand foreign tourists annually.
"There are many interesting and legendary locations there. You will be amazed to see natural phenomena. There will definitely be many stories,
many tourist destinations spread in Banyuwangi. If you like mountain tourism, there is a blue fire on Mount Ijen. The phenomenon of a 5,000-hectare stove is a rare natural phenomenon. Only in two countries in the world.
If you like beach tourism, there is G-Land Beach which can be used for surfing to diving.
Here is the destination list in Banyuwangi that you must visit:
This crater presents stunning natural scenery above an altitude of 2,368 meters above sea level. A 20-kilometer crater surrounded by a 300-500 meter high caldera wall will amaze you.
The main attraction of tourist attractions that are administratively located in Banyuwangi and Bondowoso is the phenomenon of blue fire or blue fire. The fire located below this crater is blue and looks more beautiful when the surrounding conditions are dark.
Book your ijen tour and trip here
G-Land Beach (Pantai plengkung)
G-Land or also called Plengkung Beach is very popular among domestic and foreign surfers. This beach has waves that are ideal for surfing and get the nickname The Seven Giant Waves Wonder.
This is because the waves are in the form of seven large scrolls and reach 6 meters in height. The waves on the beach are also referred to as the second best waves in the world after the waves in Hawaii. The best time to surf on Plengkung Beach is between July-September.
Lider Waterfall (air terjun lider)
Lider Waterfall is located in Sragi Hamlet, Sumber Arum, Songgon. Lider Waterfall Spill has a waterfall of about 60 meters with a height of 1,300 meters above sea level and the water comes from mountain springs.
In addition to the main waterfall, there are four small waterfalls which are also part of the main waterfall flow. Lider Waterfall is said to be the best and at the same time the highest waterfall in Banyuwangi Regency.
Red Island Beach (pantai pulau merah)
The name Pulau Merah Beach originates from a hill not far from the shoreline whose land is red. You can walk closer to the hill when the water is receding. This hill is covered with green trees and shrubs and only presents beautiful scenery during the afternoon.
Tourist attractions located in Pesanggaran Sub-district have a Hindu temple, namely Tawang Alun Temple. This temple is used as a ritual location at certain times by Hindus living around the Pulau Merah Beach.
You can do various activities here such as surfing and photo hunting. For surfing activities, this 3 kilometer beach has waves that are ideal for beginner surfers. Read more about red island
Osing Tourism Village (kampung osing kemiren)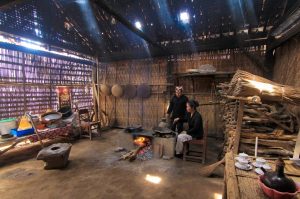 Kemiren Village has been designated as Osing Village which is also used as a cultural heritage. There are many features that this village has. Among them is the use of a typical language, namely Osing.
The ancient houses typical of the hundreds of years old Osing Tribe can be found here. There is one large house that is commonly used as a place for performing arts. Among others, Gandrung Dance, Angklung Paglak, Barong Kemiren, othek, etc. while enjoying the traditional Banyuwangi food and cakes.
Taman Sritanjung 
Taman Sritanjung is a city park located in the center of Banyuwangi City. Named Sritanjung because it is based on the name of a woman named Sritanjung in the legend of the origin of Banyuwangi City.
The park is located east of Baiturrahman Banyuwangi Great Mosque and south of Sabha Swagata Blambangan. Taman Sritanjung is functioned as a recreational facility for Banyuwangi City residents.
The green and beautiful garden makes everyone feel at home for a long time to visit especially free wifi facilities are also provided.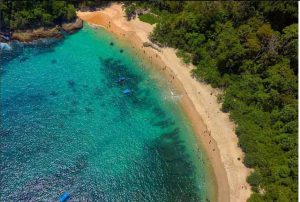 At Teluk Hijau, you will feel the fresh air of the beach mixed with the air of the tropical forest of Meru Betiri National Park. From the city of Banyuwangi, the duration of the trip is around 3-4 hours. The trip to Green Bay is quite enough to require physical energy, but you will see a beautiful sea panorama.
kali Klatak  Agro Tourism (Agrowisata Kali Klatak)
Kali Klatak Agro Tourism was previously owned by the Dutch under Mij Moorman & Co. Until finally, it turned into the hands of indigenous entrepreneurs, R Soehoed Prawiroatmodjo. This agrotourism is located on a mountain slope with an altitude reaching 450 meters above sea level.
The soil is fertile enough to grow various types of plants. Its plantation products include rubber, coffee, chocolate, coconut, fruits, and various spices. Every April 17 there is an earth alms ritual that you can witness.
Rajegwesi Beach
The beach which is located in Sarongan Village, Pesanggaran Subdistrict is a natural tourist spot as well as a very interesting history to visit. There are bunkers left over from the glory of the Japanese in the colonial period.
Rajegwesi Beach is unique in that there are not many other beaches. The beach sand is brown and very soft. Because beach sand is mixed with silt that is carried by river water during floods.
Watu Dodol Beach
The location of the beach is marked by large boulders in the middle of the road and the Gandrung Statue or Banyuwangi typical dancer. Watu Dodol Beach is located on the Banyuwangi-Situbondo axis and is only about 2 kilometers from Ketapang Harbor.
This allows you to see ferries passing between Ketapang Harbor and Banyuwangi Harbor. In addition, you can see the beauty of this tourist spot from a hill near the beach.
Banyuwangi Regent Abdullah Azwar Anas also made a breakthrough for tourism. One of them is by launching Android-based tourism and culinary application, namely Banyuwangi in Your Hand.
This application will provide convenience for tourists visiting Banyuwangi. When the camera of the cellphone has been connected with GPS, just be directed according to the wind direction. Then the mobile screen will display the location profile of public places, travel, culinary, and others.