TUMPAK SEWU WATERFALL BROMO AND IJEN VOLCANO TOUR START FROM SURABAYA OR MALANG IN 4 DAYS AND 3 NIGHT.
ITINERARY DETAILS:
DAY 1: SURABAYA – HOTEL IN MOUNT BROMO AREA.

The first day of the tour will be started from Surabaya, it can be from the Airport, Hotel or Train Station. This is a private tour which is only you and your group in the car, so we will follow your time schedule if you come by Plane or Train. If you stay at a hotel in Surabaya area, we recommend starting in the morning at about 9 am, so you will able to visit the Madakaripura waterfall as an optional program from us.
Surabaya to Mount Bromo area will be 3-4 hours' drive by car, we can stop by for having lunch or just buying some snack before you arrive in Mount Bromo area.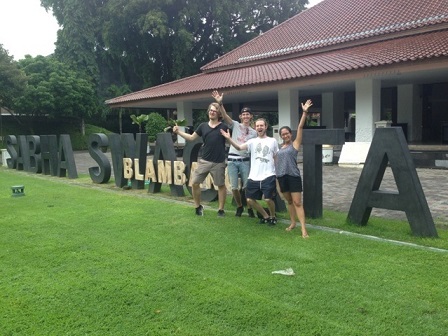 DAY 2: BROMO SUNRISE TOUR – HOMESTAY NEAR TUMPAK SEWU WATERFALL

The sunrise tour in Mount Bromo will be started at 3:30 am, you will be pick up by our local jeep driver and drive about 40 minutes to Kingkong Hill.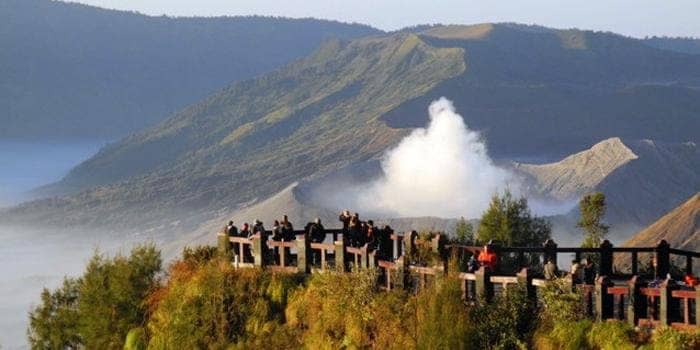 The sun will rise at 5:30 am, so you have time to wait while having some hot coffee or tea in the local shop near Kingkong Hill. Kingkong hill is the most famous sunrise point where you can see the Cemara Lawang Village, Mount Bromo, Mount Batok and Mount Semeru in one point of view. After enjoying the sunrise here, you will be escorted back to the jeep then drive to sea of sand for hiking the peak of Mount Bromo. We will be stopping by in the sea of sand to enjoy the view from the bottom and take a photo with an iconic jeep in Mount Bromo. Afterward, we will drive 5 minutes to reach the start point of the trekking, the trekking will be 45 minutes until you reach the peak of Mount Bromo.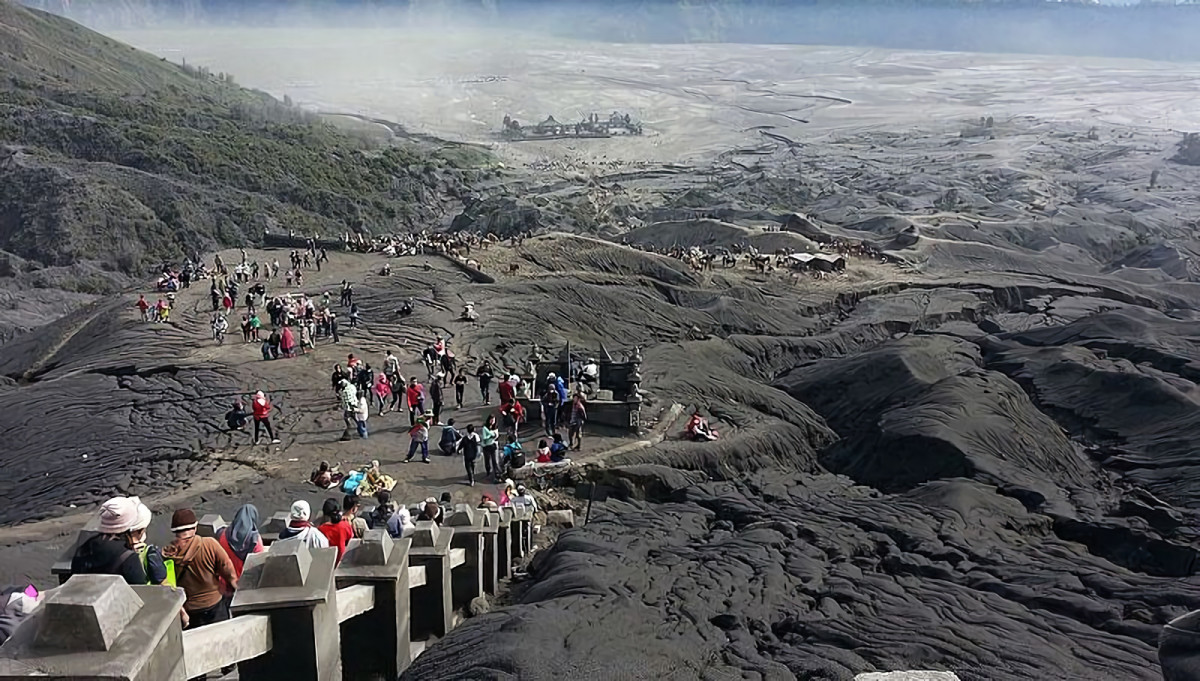 Mount Bromo is one of the most active volcanoes in Indonesia, so it spews the sulfuric smoke every day and there will be the sound of it. But it's also a good view to see Mount Batok and surrounding from here.
About 8:30 am, we will walk down to the parking area, get our jeep and go back to your hotel for having breakfast, take a shower and continue our trip to Lumajang area. We will drive about 3 hours away to reach your homestay here. In Lumajang there is no Hotel and just a few Homestay. So for hotel staying we will be staying in Lumajang Town but for homestay staying, we will be staying near Tumpak Sewu waterfall.
DAY 3: MORNING DRIVE TO TUMPAK SEWU WATERFALL – DRIVING TO BANYUWANGI CITY

The third day of the trip, we will start the trip about 5 am in the morning because the best time to visit the waterfall is at 7 am after the sunrise and the view of the surrounding will be clearer and not too bright for the color of the waterfall. And when you are lucky enough, there will be a fog /mist around the waterfall that makes your photo is more surreal.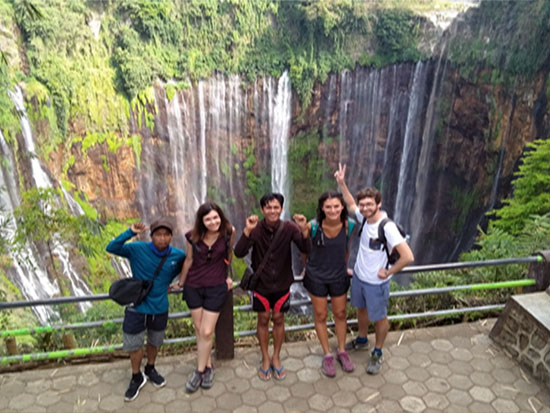 We will drive about 1,5 – 2 hours away from Lumajang town, the way to reach this waterfall is quite zig-zag so please prepare your own comfort. When you reach that area, you will be amazed by the view of this waterfall. Not also Tumpak Sewu Waterfall, you can also see Kapas Biru Waterfall. Both waterfalls are very famous for Instagram needs. But you must be careful due to the slippery path and traditional bamboo fence.
About 11:00 am, we will escort you back to the car and we will drive about 5 hours to reach our hotel in Banyuwangi area before we do midnight trekking in Ijen Crater.
DAY 4: IJEN BLUE FLAME TOUR – DRIVE TO YOUR HOTEL IN BALI

The last day of the trip will be started at about 1 am from your hotel in Banyuwangi area. We will be driving about an hour to reach Paltuding area. Paltuding is a parking place where you can prepare your trekking stuff before we start.
The trekking will take about 2 hours away until we reach Blue Flame Aka Blue Fire point, the trekking path is quite slippery and rocky in some areas, so please listen to our guide. Did you know that blue flame is the most famous natural phenomenon that you can only find in Ijen Crater, Indonesia and Dallol Volcano, Ethiopia? So, it will be super impressive to be witnesses here.
After enjoying the natural phenomenon here, we will go up to sunrise point to see the most beautiful crater lake of Mount Ijen. It has the biggest sulfuric lake in Indonesia and it has 0,5 ph. of acidity. That's why this volcano is very interesting for some researchers, geologists or volcanologists. Beside of that, the color of the lake is turquoise, it makes Ijen Crater becoming one of the volcanoes with a great landscape for photography.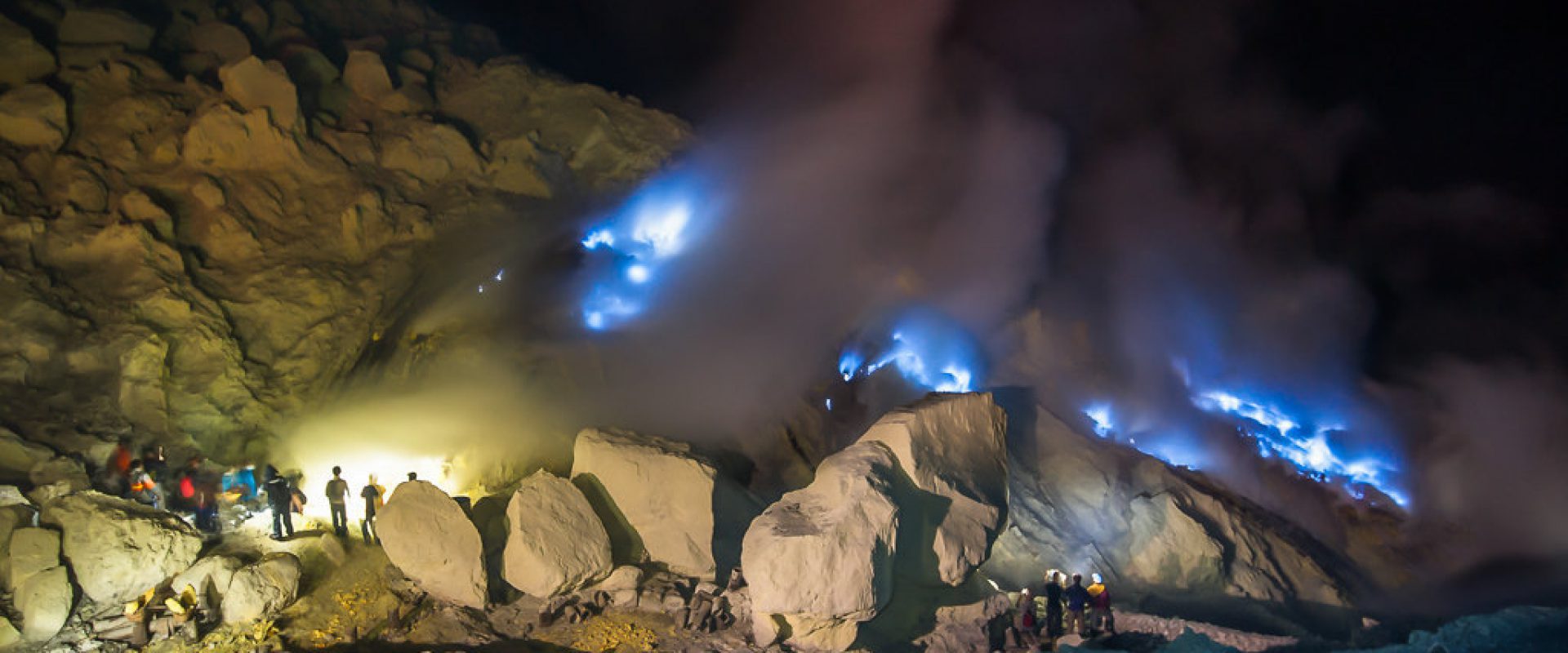 About 7 am, we will go back to Paltuding, then go back to our hotel in Banyuwangi area for having breakfast and prepare your stuff before going to Bali. After checking out from the hotel, we will escort you to Ketapang Ferry Port,
AND THE TOUR END HERE.
PRICE INCLUDED ON TUMPAK SEWU WATERFALL BROMO AND IJEN VOLCANO TOUR :
Pick up service from Surabaya and transfer out to Bali
1 Night stay in Mount Bromo area with a breakfast
1 Night stay in Lumajang Town/Tumpak Sewu Waterfall area with a breakfast
1 Night stay in Banyuwangi town area with a breakfast
Private land transportation with driver and fuel during the trip
Entrance tickets in Mt Bromo & Ijen Crater ((there are 2 types of tickets (weekends and weekdays))
Private English speaking guide
The jeep for Mount Bromo tour
Cost for parking during the trip and mineral water during the trip
Cost for Tumpak Sewu Waterfall
Cost for Ijen Bluefire Tour and Gas Mask in Ijen Crater
PRICE EXCLUDED ON THIS TUMPAK SEWU TOUR 4DAYS AND 3 NIGHTS:
Travel insurance
Bar, laundry, phone calls, and the internet
Cost for lunch & Dinner during the trip
Tipping (gratuity) for guide and driver ( recommended)