Mount semeru tour package
In East Java, there is a mountain that is currently very crowded visited by adventurers, namely Mount Semeru. Mount Semeru has a height of 3676 sea level and is the highest mountain on the island of Java. If you are interested in conquering the summit of Mount Semeru, we provide Mount Semeru Climbing Package 4 Days 3 Night.
This package is special for you who like the natural beauty that is still natural because in the mountain Semeru there is a lake that is very beautiful and very popular among the climbers of Lake Ranu Kumbolo. Here are some provisions, facilities, plan of climbing of tour package of mountain Semeru 4 days 3 tonight.
Itinerary Travel:
Day 1: Malang / Surabaya, Ranupane, Ranu Kumbolo
For meeting point can be in Malang or Surabaya city, either at airport, station, terminal or hotel. Then continue the journey to District Tumpang (jeep base) and complete all the needs that are lacking. The trip continues to Ranupane Village and takes care of the licensing requirements and continued trekking to Lake Ranu Kumbolo, approximately 5 hours on foot. Then set up the tent, cook, eat and rest.
Day 2: Ranu Kumbolo, Post Kalimati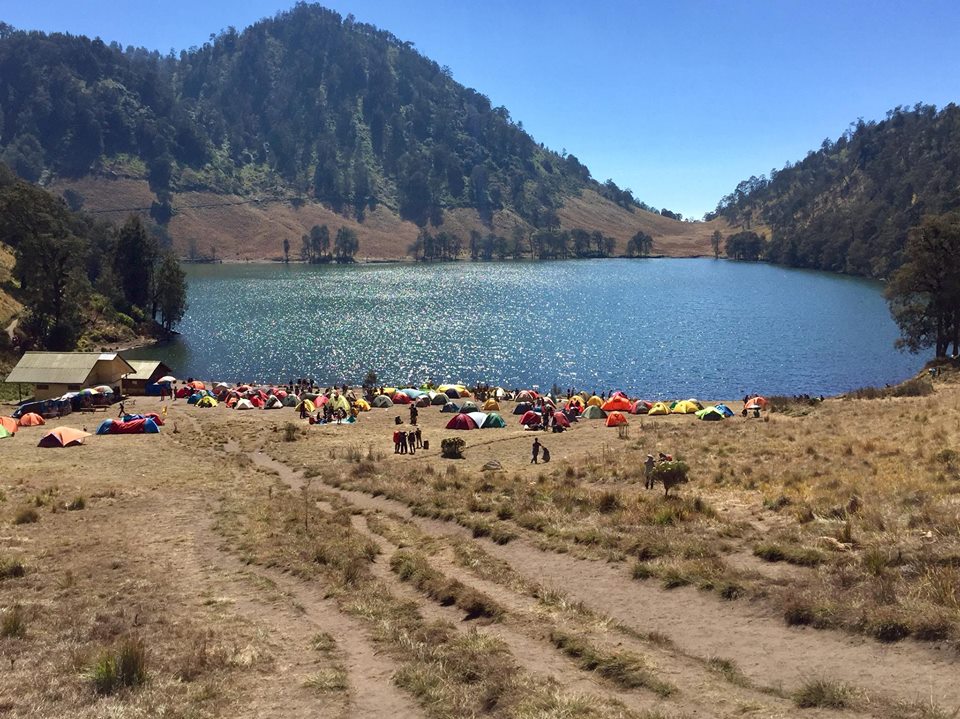 Get up early, cook and have breakfast. Then the journey continues through Tanjakan Cinta and Oro-Oro Ombo (lavender park) to the Kalimati Post as the last camp before trekking to the top mahameru 3676 masl. In Post, Kalimati prepares all the needs that will be brought to the summit semeru, and set up tents and rest until midnight. Distance from Ranu Kumbolo to Post Kalimati more or less takes 4 hours on foot.
book your mount semeru tour package here
Day 3: Post Kalimati, Puncak Mahameru, Post Kalimati, Ranu Kumbolo
At midnight around 12 o'clock heading for the peak mahameru through Arcopodo and Kelik and conquer trekking summit to the top mahameru. After reaching the peak and take pictures ria, then down back to Post Kalimati and continued to Lake Ranu Kumbolo. And spend the night in this beautiful lake. The journey from Post Kalimati to Puncak Mahameru takes 6 hours journey.
Day 4: Ranu Kumbolo, Ranupane, Malang City
The morning after cooking and breakfast continue the journey home from Ranu Kumbolo to Ranupane Village. And continue the jeep trip to the city of Malang or the city of Surabaya.
to book mount semeru tour package
Please contact our admin and confirm the number of participants who will participate in this mountain climbing package Semeru. We will inform the price tariff according to the number of package participants.
Includes:
Transport PP Malang – Ranupane
4-day Climbing Permit + Insurance
Complete equipment (tents, cookware, etc.)
Team Porter (Bringing a tent)
Professional Guide
Eat during the climb
Excludes:
Private Porter
Personal equipment
Personal expenses
Personal Equipment Prepared:
Shoes & socks
Gloves
Jacket
Headlamp / flashlight
Personal clothing
Gloves
Raincoat / Poncho / Rain Coat
Personal medicines
Photocopy of ID card
Mask
Terms and Conditions :
A fleet of transportation used Jeep 4 × 4
Package of the ascent applies to local tourists (domestic)
This package is a private climbing package (not an open trip) and not combined with other guests.
This package can be custom (tourist Malang Batu, wisata bromo, etc) please by request
That is the package offer climbing Semeru 4 days 3 nights from the city of Malang or Surabaya. This climbing package can be customs, such as packet climbing semeru 3 days 2 nights and then proceed to bromo mountain tour or peak B 29 Argosari Lumajang.
For more detail about Semeru tour price and reservations please contact our Team or SEND EMAIL
Book your mount semeru tour package   HERE